AA649 (SFO » PHX)
AA586 (PHX » GEG)
AA490 (GEG » PHX)
AA400 (PHX » SFO)
A cold, foggy night in San Francisco and some late-night browsing of recreation.gov are to blame for several different trips of mine, but back in June they combined with my fond memories of the game Firewatch to lead to me browsing fire lookout towers for rent.
There's not a lot of them left, and they're popular, but after a bit of searching I came across Gem Peak Lookout in Montana, which had a couple of nights free in September. I quickly booked it, turned some air miles into flights, and booked a rental car, in an uncharacteristic feat of planning ahead.
Finally, last Tuesday rolled around, and I found myself on a flight to Spokane, WA, camping gear and road maps of the Kootenai National Forest in hand. A quick trip to Walmart stocked me up on food and a couple of gallons of water, and then I was off, driving across two states (thankfully only a few hours, thanks to the thin bit of Idaho) to the small town of Noxon, Montana.
I've driven some unpaved roads before, and the Gem Peak listing page says that "typically visitors can drive straight to the lookout", so I wasn't terribly worried. What they mean, however, is that you should probably bring a 4x4 and a head for heights; from Noxon, there's 15 miles of unpaved road and over 3000 feet of elevation change to climb all the way up to Gem Peak, a good half of it single track with a sheer drop to one side, with the final two miles being more stone than dirt. I made it with a normal car, but it was slow going at times.
Once you make it, though, you find the lookout, old but still in good shape, its three-story staircase beckoning. Climb up and you'll be rewarded with a stunning view of the Kootenai National Forest spread over this beautiful part of the Rocky Mountains.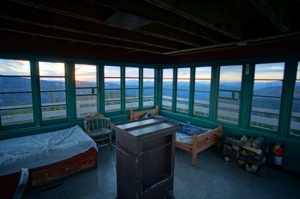 Inside, the lookout is spartan but functional, with two plastic-covered beds, a couple of storage units and a wood-burning stove for heat. There's no power or running water in this neck of the woods, but remarkably there's a decent mobile phone signal at the top of the tower, no doubt aided by the fact that you can see towns along the valley bottom in the distance. The toilet is down on the ground, which means a pitch-dark descent down the stairs in the middle of the night if you need to go, but I've had worse.
I was staying for two nights, so I had a whole day in the middle to spend relaxing in the lookout. Some fire lookouts are still in active use; the people who go out to staff them are often there for months. Some plan to write, some to do art, but many of them say that they spend far more time than they planned to just relaxing and staring at the landscape, and I wanted to capture my own little bit of that.
The wood stove was a little difficult for someone who hasn't used one in a few years; I got it going relatively quickly, but didn't manage to make it last the entire way through either night I was there. When it's going, though, it's lovely to warm yourself inside while the weather turns sour outside - it was sunny the day I arrived, but by the time I left two days later it was windy and raining.
Sleeping there was also interesting - the mattresses are certainly better than a sleeping pad on the ground, but my problems keeping a fire going resulted in it getting pretty cold overnight; thankfully, my sleeping bag was warm enough that it just meant a very cold few minutes in the morning getting dressed. The second night was very windy, too, and the tower was creaking and shifting ever so slightly in the wind; fun to listen to, but it made it a bit harder to nod off.

I found myself already nostalgic for the place as I drove down towards civilisation on Thursday morning; at one point on the road down you can see the lookout in the distance, nestled among the trees at the top of the mountain, and it felt a little bit like home.
It was a really lovely getaway - I really enjoyed just sitting in the lookout, staring at the landscape while I read some books or listened to podcasts, keeping the fire going and cooking up some nice camping food. If you're looking for somewhere to get away and just enjoy some scenery at a slightly higher comfort level than camping, then it's a great way to go.
(You can see more pictures from Gem Peak in my Flickr album)